At the last luncheon meeting at Brunswick, we discussed updating our unit name to include the word "Airstream". This was a suggestion from Region 3 to make the sites more search friendly to the public. Well, that has been put on hold because the lawyers at Thor (the parent of Airstream) is reviewing their policies of free use of the "Airstream" name. It has now also been recommended that the state name be the first on the unit name to enhance membership. This will be up for discussion.
************
There were 4 members present at the Region 3 rally at Hiawassee. The park is very scenic, but had some challenging spots. Ray Lewis had to move because his 30 footer was too long to handle the grade change and was hitting bottom. There was a lot of entertainment and food. As president, Ray represented our unit in the opening flag ceremony.
The view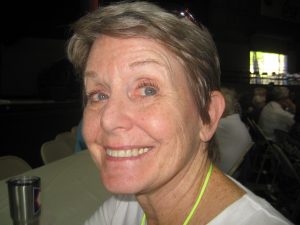 Mary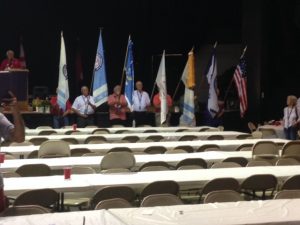 Ray at the opening
Going home
                                     ********************
As a member, you are invited to join any unit's rally. I (Barry) attended a rally sponsored by the Southeast Campers Unit held at Veterans State Park in Cordele, Ga. Kathy Narowski from SE Campers was the host and we had nice water front lots. Even had a bagpipe concert!
Barry